Sage (also known as Tessa in the comics) is a character on The Gifted. She is a mutant, who in the Marvel Comics, had the ability of Cyberpathy and Kinetic Memory.
Early Life
Edit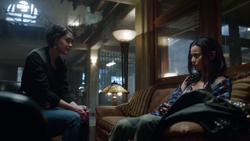 In eXposed, Sage talked to the new arrival at the Mutant Underground Headquaters, Blink. She learned that Blink's birth name was Clarice. She then asked her if she should contact anyone, perhaps family, to which Clarice said it was complicated. Sage then informed her that she would stay with them at the headquarters until they figured out where they would relocate her.
Later, Sage alerted everyone, including Marcos and John, of a local news story, where the news anchor reported that two mutants, Andy and Lauren Strucker, committed an act of terrorism at a local high school.
In rX, after the new arrival, Clarice, lost control of her abilities and nearly brought down the underground's headquarters, Sage joined Sonia and the others in reestablishing order.
Personality
Edit
Physical Appearance
Edit
Skills and Abilities
Edit
Appearances
Edit
She made her first appearance in the 1980 comic series titled "The X-Men #132".
Sage's appearance in The Gifted marks her live-action debut.
Screencaps
Edit
References
Edit
Ad blocker interference detected!
Wikia is a free-to-use site that makes money from advertising. We have a modified experience for viewers using ad blockers

Wikia is not accessible if you've made further modifications. Remove the custom ad blocker rule(s) and the page will load as expected.