"
You did something stupid for someone you love. Can't say I haven't done the same.
"
— Marcos
Eclipse (birth name Marcos Diaz) is a main character on The Gifted. He is a Mutant with the ability to absorb and manipulate photons.
He comes from a poor family that exiled him from his home after he used his powers for the very first time. In search of many things, such as family and unity, Eclipse headed to the United States, where he eventually got involved with an Underground Network of mutants, including his closest friend, Thunderbird, and his girlfriend, Polaris.
Character Description
Edit
"A natural rebel compelled by circumstances to cooperate with others, Marcos is a passionate and strong-willed fighter who sometimes lets his emotions overrule reason. His alter ego, Eclipse, who possesses the ability to absorb and manipulate photons, is a newly created mutant for this expanded X-Men universe."[1]
Early Life
Edit
Marcos Diaz was originally from Colombia, and as the oldest, was groomed by his father to take over the family business. However, when he was thirteen, his powers manifested for the first time and he was kicked out by his parents. He then went to live on the streets of Bogota, and eventually wound up doing "things he wasn't proud of" to survive.
He found employment with a cartel, helping to run drugs across the border. He became involved with his employer's daughter, Carmen Guerra. He soon began to be treated as a valued member of the family, but that changed when he met Polaris. He fell in love with her and decided to leave the Cartel and join the Mutant Underground, utilizing all his foreign contacts into smuggling mutants instead of drugs.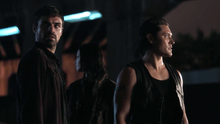 In eXposed, the Atlanta police, just as Eclipse, Thunderbird and Polaris, were looking for the escaped fugitive, Blink. After locating her, and barely gaining her trust, the police tracked them down in the abandoned workshop. They made a run for it and despite their efforts to take down the police by using their mutant abilities, Eclipse was shot in the alley. Polaris, panicked by Eclipse's injury caused her to get tasered by the police and taken by the police. Eclipse tried to get to her, but Thunderbird held him back knowing they were outnumbered by the police.
They arrived at the Mutant Underground Headquarters. As John patched Marcos' injury up, they debated over the rescue of Lorna. Marcos wanted nothing more than to get a team together, but John was not convinced they could take on hundreds of cops let alone a dozen of them. John reasoned that it was too risky. When Sage came in to alert them of a news story, where the news anchor reported that two mutants, Andy and Lauren Strucker, committed an act of terrorism at the local high school, Marcos his plans of rescuing Lorna would have to wait.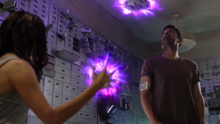 Marcos was trying to find a way to rescue Lorna when Clarice entered the room. She wanted to thank him for rescuing her, knowing he lost Lorna in the process. Marcos shrugged it off, however, he was interested in her mutant abilities. He thought Blink's ability to create portals could help with rescuing Lorna. All he needed was for her to get him inside the prison, but it was beyond Blink's abilities as she explained that in order to teleport someone, she would've had to have been in the place before. Marcos didn't understand so Blink illustrated it by using a toy to teleport it through the roof, a place she hadn't seen before. When it came out of the roof, it was cut in half.
Their conversation was interrupted when Marcos received a call from Reed Strucker. Reed proposed a deal to Marcos: He explained that he was the prosecutor with the city, involved in building a case against Marcos and his mutant associates for the district attorney's office, so if he helped his family across the border, he would be able to sort out Lorna's release. Reed also revealed to Marcos that Lorna was pregnant.
As planned, Marcos met up with Reed at a local bar for mutants called Tex's Lounge. Reed offered to help Lorna in exchange for assisting his family. Marcos agreed because Lorna's big secret was that she was pregnant, but said that Reed would have to stay behind to make sure the other man held up his end of their bargain. Meanwhile, back at the headquarters, Clarice informed John about Marcos' conversation on the phone earlier, and how he was meeting the man alone, to which John decided that they go track down Marcos.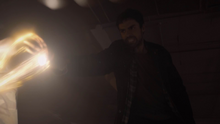 Blink and Thunderbird successfully tracked them all down, Eclipse and the Struckers took their cue from Thunderbird to run. The seven of them sprinted through the warehouse, as Thunderbird detected the Sentinel Services unleashing their mutant-hunting robots, the Sentinels. Eclipse and Lauren were able to keep them behind using their mutant abilities while Blink created a portal for them all to retreat through. Everyone, except Andy and Reed, went through the portal. After Andy destroyed the Sentinels and entered the portal, Eclipse and the others screamed for Reed to hurry up before the portal closes. Unfortunately, Blink couldn't keep the portal open much longer. Reed was shot and unable to reach the portal, leaving everyone distraught over Reed being captured.
Personality
Edit
Although he can be somewhat short-tempered, impatient, and distrusting of strangers, Eclipse is fiercely loyal to his friends and those he cares about, willing to do almost anything to ensure their safety. He deeply regrets the things he did in his youth to survive and now seeks to help mutants escape persecution.
Physical Appearance
Edit
Eclipse has short-cut black hair, brown eyes, and tan skin. He also has a fondness for flannel shirts.
Powers and Abilities
Edit
Absorption and Manipulation of Photons: Eclipse can absorb and manipulate photons of light, heat and energy but not much is known about the extent of his abilities. His cells have the ability to absorb solar energy and convert it for use as a physical strength. He also demonstrated using his ability to drain all light out of an area, seemingly encasing him in a large shadow, creating a blind spot.
Light Beam Projection: He can manipulate photons to project powerful rays of light and energy beams from his hands which are hot enough to cut through cinder blocks. His body is a literal battery of light and heat. When severally injured, Eclipse's wound emits light that burns to the touch, proven when he was shot by an Atlanta officer, and later when the bandage was removed.
Appearances
Edit
Eclipse is bilingual, fluently speaking both his native Spanish and English.
Although Eclipse is an original character created for the show [2], he shares a codename with an incarnation of Sunspot in the Age of X timeline. Much like Eclipse, Sunspot has solar-based powers.
Promotional Images
Edit
Screencaps
Edit
References
Edit
Ad blocker interference detected!
Wikia is a free-to-use site that makes money from advertising. We have a modified experience for viewers using ad blockers

Wikia is not accessible if you've made further modifications. Remove the custom ad blocker rule(s) and the page will load as expected.